---
You can also be interested in these:
---
The Corsair Vengeance A7200 was released in late 2020, in November. It touts a flagship AMD Ryzen 5000 series CPU with a slew of 10th, 11th and 12th generation Intel Core i7 and Core i9 options available as well. Powering the insane number of pixels on your display without breaking a sweat are no other than Nvidia's infamous GeForce RTX 30 Series graphics cards, although an AMD RX 6800XT is also available. The internals come packaged in a beautifully minimalist, black Corsair 4000D Airflow mid-tower case. It features Corsair's own integrated H100i RGB PRO XT cooler working with six SP RGB Elite fans – featuring AirGuide technology for directed airflow – to keep things cool and under control.
The Corsair's Vengeance A7200 is well equipped to the brim with 32GB of Corsair's very own Vengeance RGB Pro DDR4 RAM running at a 3200 MHz clock speed. A best-in-class 1TB MP600 M.2 NVMe SSD and a 2TB HDD run the show when it comes to storage space for your games. Even though it is hard to believe that anyone would want for more, that bridge of adding more storage or replacing it can be crossed whenever you wish to encounter it. With the comfort and reliability offered by the backing of a two-year warranty by Corsair, you can rest assured that your A7200 is in good hands. The listed specifications of the Corsair Vengeance A7200 sound like an excellent value proposition, with the availability of the GTX 30 Series cards not getting better anytime soon, this could be a great deal.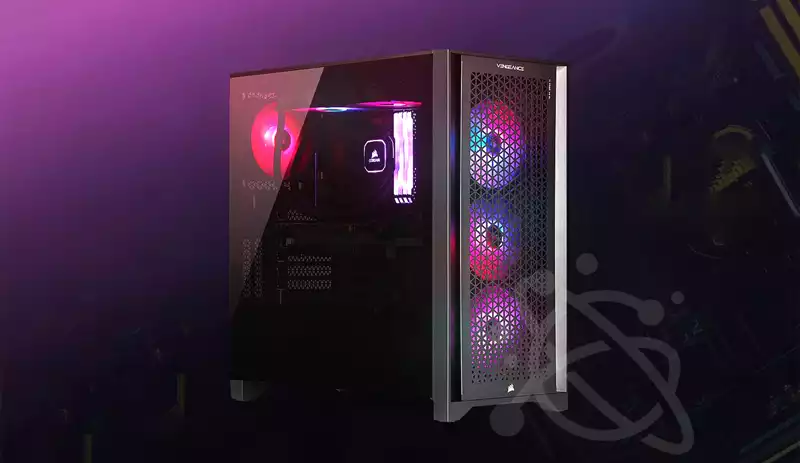 On paper, the Corsair Vengeance A7200 gaming PC has a lot going for it, and it certainly has a lot to live up to. So is the Corsair Vengeance A7200 a paper tiger or is it truly a fierce predator just like Corsair claim? Join us as we take a closer look at the Corsair Vengeance A7200 and if it truly has what it takes to join the global elite of gaming computer systems. Let's get started, shall we?
Processor
We will begin by doing a comprehensive breakdown of all the parts that make the Corsair Vengeance A7200 what it is. That starts with our CPU also commonly referred to as the processor. The A7200 comes pre-installed with a range of Ryzen 5000 series CPUs. Our particular review unit was equipped with a Ryzen 9 5900X. This is a top-of-the-line CPU from AMD that has a base clock speed of 3.7 GHz and can be overclocked to speed of up to 4.8 GHz. Codenamed "Vermeer", the Ryzen 9 5900X is manufactured using state of the art 7nm FinFET technology. The CPU is part of the Zen 3 family of AMD CPUs, which is the type of Core Architecture it uses and, was launched in mid 2020.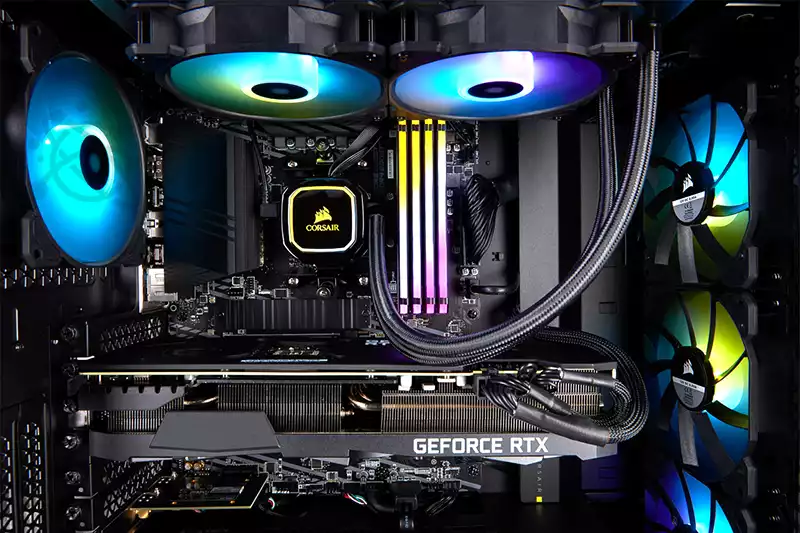 This processor has 12 operating cores so it is very well suited to multitasking but, as a consequence, it is extremely power hungry as well. This particular chipset, for example, has a default TDP (Thermal Design Power) rating of 105W. It also features 24 threads for efficient and fast multi-threading operations. The architecture of the Ryzen 9 5900X is x86 and it is a 64 bit processor. It has 64MB of L3 Cache and supports up to 128 GB of RAM running at a maximum clock speed of 3200 MHz. This chipset uses PCIe 4.0 (Peripheral Component Interconnect express) to connect 20 PCIe Max Lanes. 4 of these lanes can be used to connect storage devices like SATA Drives or PCIe supported NVMe SSDs. All in all, it is fair to say that the Corsair Vengeance A7200 is chock full of power, and you will never be left wanting for more when it comes to processing brawn.
Graphics card
Moving on to the heart of our build and arguably the most important component in any gaming PC; the GPU. It should come as a great source of relief to you that the Nvidia GeForce RTX 30 Series graphics cards that come with the A7200 pack plenty of a performance punch. Announced in fall of 2020, they run on Ampere which is Nvidia's 2nd generation of RTX Architecture. RTX is short for Ray Tracing Texel eXtreme and uses the Tensor cores in RTX GPUs to enable real-time ray tracing in computer graphics. The question that you might have now is what does this mean for you as a gamer? Well, to put it simply, real-time ray tracing allows video game developers to create new, interactive structures for in-game objects that react to lighting and develop shadows and reflections in real-time. This translates to a smoother and more realistic viewing experience in games and even computer CGI. Pretty neat, isn't it?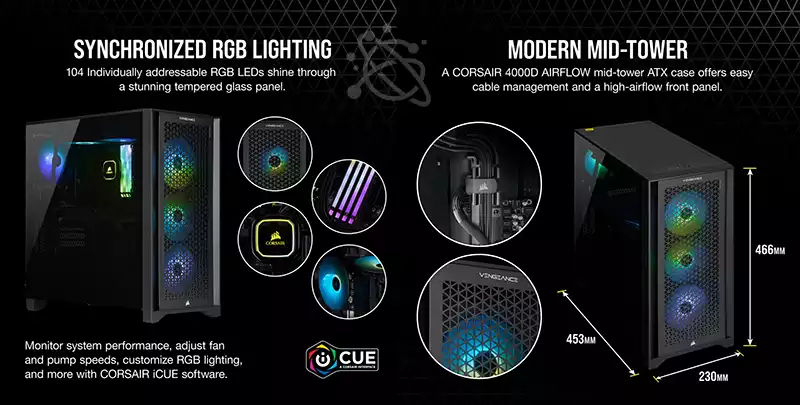 The good things about the GeForce RTX 30 Series don't end there, however. These cards are built using Samsung's industry leading 8nm chip technology which combines the best of both the worlds of power and energy consumption. They also support PCIe 4.0 which allows for faster connectivity to ensure you have a smoother experience. The RTX 30 Series featured in the Corsair Vengeance A7200 are equipped to support up to CUDA (Compute Unified Device Architecture) 8.6. CUDA is a software API (Application Programming Interface) that allows game developers who make games in native languages such as C or C++ to use and integrate the resources from a GPU more efficiently. This leads to less power requirements by the GPU while also giving you higher frame rates when you want to play that AAA title you just bought. That is a total win-win, isn't it?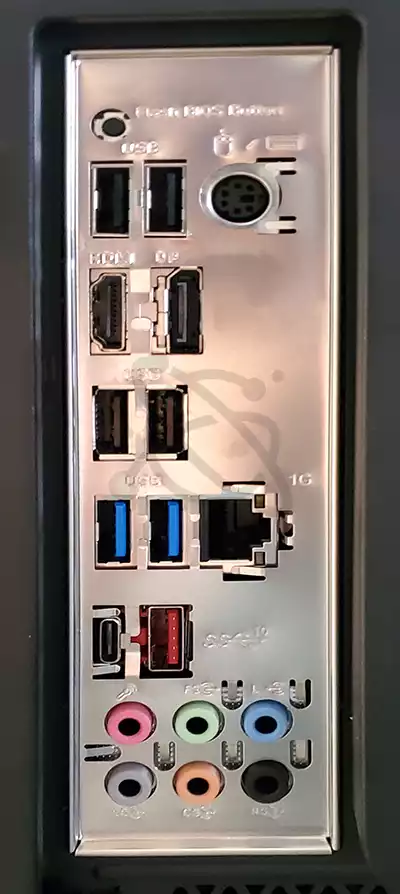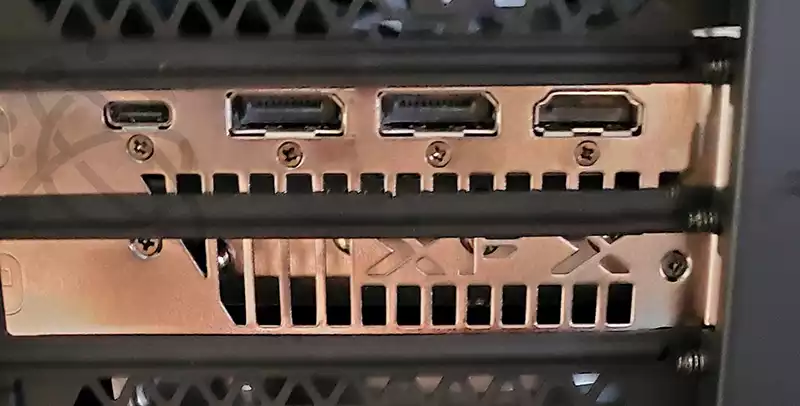 The Corsair Vengeance A7200 gaming PC allows you to pick from among a few different options for your graphics card configuration. You can pick a standard Nvidia GeForce RTX 3070 but there are no configurable options in that variant. It will save you quite some money, however. There are also options to pick from a GeForce RTX 3080 or a RTX 3080 Ti, which is a jacked-up version of the base RTX 3080 with a much higher number of CUDA cores and performance almost touching that of the RTX 3090. AMD purists need not fear! The top-of-the-line Vengeance A7200 gives you the option to pick AMD's Radeon 6800 XT. While it is not exactly at par with the GeForce RTX 3080, it is easily ahead of the RTX 3070 and it only makes sense to call it the next best thing. Our review unit was equipped with the standard Nvidia GeForce RTX 3080. The cards feature GDDR6X memory and the have clock speeds measured in the GHz territory, so you know things are about to get quite serious.
RAM memory
That covers the basics but there's still quite a lot to see on the Corsair Vengeance A7200. Corsair takes great pride in the RAM modules that they tailor to the needs of elite gamers. The AMD Ryzen 9 5900X in our review unit supports memory running up to a clock speed of 3200 MHz. Corsair decided to go all out and stacked it with 32 GB of Vengeance RGB Pro DDR4 RAM running at 3200 MHz which is where it possibly derives its name from as well. Given the name, you might have guessed it – you would be correct if you did – that the Vengeance RGB Pro is an RGB enabled RAM module with dynamic multi-zone RGB lighting. If all that is still not enough to tickle your fancy, the Vengeance RGB Pro RAM supports overclocking to a clock speed of up to 4600 MHz. With Corsair, you know this one just had to be there.
Storage
On the storage memory side of things, Corsair decided to bundle up the Vengeance A7200 with 3 TBs of high-performance storage. 1 TB of this comes from their in-house, state of the art Force series MP600 M.2 NVMe SSD. Being an NVMe SSD, it is PCIe 4.0 supported and achieves blazing fast read speeds of almost 5000 MBs per second. Bundled alongside is a 2 TB SATA hard drive for the less important data should you want to keep any of it. We were unable to decipher the branding and hardware specifications of the 2 TB hard drive but it did not show any lacklustre performance during our testing so it is safe to say that you will enjoy a similarly fast experience. The lower spec RTX 3070 version is missing the 2 TB hard drive but it still comes equipped with the very fast and reliable MP600 M.2 NVMe SSD.
Motherboard
On to the motherboard now. The Corsair Vengeance A7200 gaming PC comes with the B550-A PRO motherboard from the ProSeries offered by MSI. Why they chose not to unveil this information on their product website for the A7200 is a mystery to us as well. The B550-A PRO is a high-end, performance-oriented motherboard and even comes with exclusive features like the ability to flash any BIOS of your choice using nothing but a compatible USB key. The board offers you plenty of connectivity options with 2 M.2 slots, 6 USB 3.2 ports and 8 USB 2.0 ports. There are 4 DIMM slots and 6 SATA slots so there is plenty of room to upgrade your RAM and hard drives although the need for that ever arising is unlikely in the near future. Audio is covered by the infamous Realtek so you can rest assured that you will never face hardware problems when talking to your friends over live chat while playing multiplayer games. There is also support for RAID storage systems to make the most out of your hard drives and their capabilities.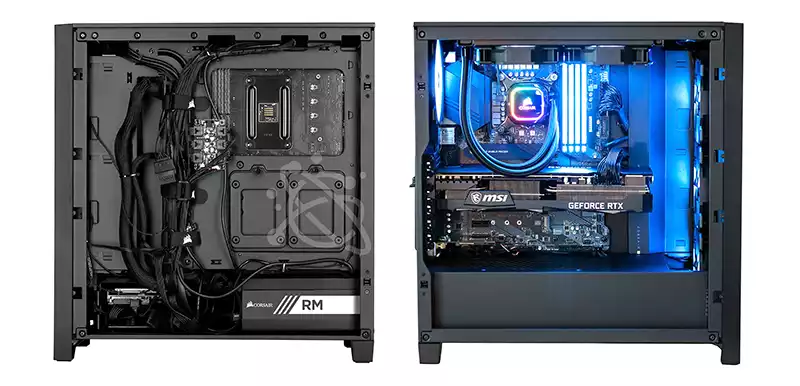 Cooling system
With all these hardcore, power-hungry components, I can already feel the degrees rising. You are in luck because Corsair took the necessary steps to ensure optimal cooling performance for the Vengeance A7200. The A7200 is fitted with the iCUE supported, H100i RGB PRO XT Liquid CPU Cooler. This cooler has 2 Corsair ML120 PWM fans and a 240mm radiator. Purpose built for extremely low noise and highly efficient cooling; it is also one of the prettiest sights inside the tower with 16 RGB LEDs scattered across it. But Corsair being Corsair decided it wasn't the visual treat they intended to design and so they went ahead and added six iCUE supported SP120 series RGB ELITE Performance PWM fans with a 120mm diameter. Now you can really forget New Year's Eve and set up your very own light show as each of these fans comes equipped with 8 individually controllable RGB LEDs. The fans also come equipped with Corsair's proprietary AirGuide technology to control the airflow allowing for better heat dissipation and cooling.
Power supply
With a light show as big as this, there needs to be some rocket fuel to burn too doesn't it? Powering the Corsair Vengeance A7200 at the back is Corsair's very own RM750 80 PLUS® Gold Certified Fully Modular PSU from their RM series of Power Supply Units. It puts out 750 Watts of power at its peak just like the name suggests and keeps things silent but deadly with its extremely low operating noise. Sandwiching all of these marvels of technology and keeping them together is the Corsair 4000D AIRFLOW ATX Case in Black. It has large tempered glass panels on both sides to offer breathtaking views of the customizable iCUE supported RGB components inside. It is a mid-tower case and has very efficient cable routing features along with two pre-installed 120mm AirGuide fans.
Performance
On the performance side of things, there's a whole lot to talk about. We ran Fortnite on High settings with a 144Hz 1080p display and the A7200 was too powerful to perform such an easy task. We had to lock the FPS rate to 144 frames per second. Call of Duty: Warzone a recent and extremely demanding AAA title ran buttery smooth with a fluctuating frame rate of 120 to 130 frames per second. Those numbers are absolutely insane for any build available in the market today!
There are a lot of praises to heap on the Corsair Vengeance A7200. Starting off with performance. The A7200 absolutely blows every game you throw at it out of the water. It is brilliantly designed and very well thought out therefore it provides exceptional performance. Secondly, buying all these components separately to assemble them yourself will cost you almost twice as much money and will take up a lot of your time. Not to mention the pre-built system will still be a more polished version. Thirdly, the rarity of flagship products like the Nvidia GeForce RTX 30 Series cards and AMD's Zen 3 chips means that it might almost be impossible to find these components individually and build your own rig. Lastly, the visuals and design on this system are amazing. The case is a real looker and the customizable iCUE RGB components inside of it are tough to beat when it comes to gaming RGB aesthetics and performance.
Downside of the Corsair Vengeance A7200
So where does the Corsair Vengeance A7200 fall short? Well for starters, the CPUs from the Ryzen 9 series tend to heat up a lot and a liquid cooler would have served much better than the air cooler that comes with the A7200 even though it is supplemented by extra fans. Then there's the atrocious delivery times that Corsair asks for and, although it is understandable that there is a global shortage of top shelf CPUs and GPUs, the situation has improved quite a bit since this machine was launched and Corsair need to up their delivery game if they want to sell more of these. This brings us to the final point that although the Corsair Vengeance A7200 was a very good deal when it launched since it was decently priced and Ampere GPUs were hard to come by, it has since become less of a value proposition and you might even be able to buy a build with the same specifications for lesser if you choose to buy used.
The Corsair Vengeance A7200 is backed by a two-year warranty from Corsair and prices start at $2000 for the AMD R5 5600X and Nvidia GeForce RTX 3060 Ti model. The AMD R9 and Nvidia GeForce RTX 3080 models start around $2800 direct from Corsair. BestBuy regularly has deals on them offering them for less. To sum it all up, the Corsair Vengeance A7200 is a good deal for what it offers but not a great deal. If you don't want to go through the hassle of building a PC yourself, this might be for you. However, if you are looking for a less expensive rig with similar specifications, you're going to have to build it yourself.
---
More stories like this
---