---
You can also be interested in these:
---
The Asus ROG Strix Scar 16 2023 is a high-performance gaming laptop, designed to cater to the needs of gamers and professionals alike. It boasts cutting-edge hardware, including the powerful i9-13980HX processor and Nvidia RTX 4090 GPU with 175W unlocked. This laptop also features a highly effective cooling system with liquid metal thermal paste, 1+1 TB of RAID 0 storage, and a remarkable 16-inch Mini LED QHD display with a 240 Hz refresh rate. The display is versatile enough for both gaming and professional design applications.
Exterior design and build quality
The Asus ROG Strix Scar 16 2023 maintains the iconic design of the previous generation Scar series, featuring a sleek matte black aluminum lid that provides excellent rigidity and resistance to twisting. The Asus logo is prominently displayed on the top, along with integrated AURA Sync lighting for a touch of personalization. The 16-inch laptop strikes a balance between size and portability, weighing 2.4 kg and measuring a maximum thickness of 30 mm at the rear.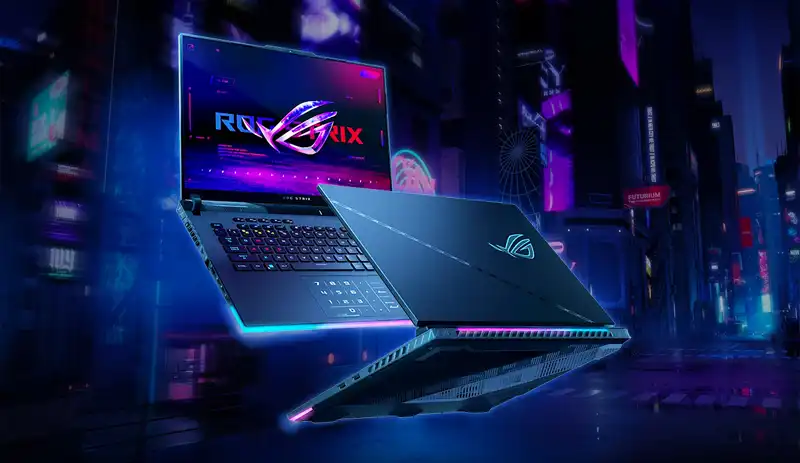 The front edge of the laptop features a semi-transparent design with integrated RGB lighting, creating a visually striking appearance. The rear edge incorporates additional RGB lighting behind the ventilation grilles, adding to the gaming-focused aesthetic.
Base, keyboard, and touchpad
The base of the laptop is made of high-quality plastic to facilitate attachment to the rest of the device and provide easier access to internal components. This design choice simplifies maintenance and upgrades compared to competing models. The base also features multiple air intake vents for the three fans, ensuring efficient cooling during intensive tasks.
The keyboard area showcases a gradient design from transparent to opaque, with the high-quality plastic preventing any noticeable flex when typing. The keyboard maintains its layout and key distribution, providing an excellent typing experience for both productivity and gaming. The touchpad has been slightly enlarged, offering improved usability, and features a NumberPad customized for the ROG aesthetic.
Display, hinge, and viewing angles
The 16-inch 16:10 display has an anti-glare finish, reducing reflections and improving visibility in various lighting conditions. The ultra-thin 5 mm bezels on the sides and top, along with a 15 mm bezel at the bottom, create an immersive viewing experience. The hinge system is integrated directly into the laptop body, raising and aligning the screen with the rear edge for a seamless appearance. However, the opening angle is somewhat limited, though it should not significantly impact usability.

Ports and connectivity options
The Asus ROG Strix Scar 16 2023 features a classic port layout on both sides of the laptop, providing easy access to connectivity options. On the right side, there are two USB 3.2 Gen1 Type-A ports for connecting peripherals. The left side houses a 3.5 mm combo audio and microphone jack, a USB 3.2 Gen2 Type-C port with DisplayPort and Power Delivery for charging and display output, a USB-C Thunderbolt 4 port with DisplayPort for high-speed data transfer and display output, an HDMI 2.1 port for connecting external displays, a 2.5 Gbps RJ-45 LAN port for wired network connections, and a DC-In jack for charging the laptop.
In addition to these ports, the laptop also includes Wi-Fi 6E Intel AX211 for wireless connectivity, offering triple-band support with speeds up to 2.4 Gbps on 5 and 6 GHz bands and 574 Mbps on the 2.4 GHz band. Bluetooth 5.2 is also available for connecting wireless peripherals and accessories.
ROG Nebula HDR display and integrated audio system
The Asus ROG Strix Scar 16 2023 features a high-quality IPS panel with Mini LED technology called the ROG Nebula HDR. This 16-inch display offers a resolution of 2560 x 1600p in a 16:10 aspect ratio, delivering crisp and vibrant visuals. The Mini LED technology provides exceptional color accuracy and contrast levels similar to OLED panels, making it suitable for both gaming and professional design work.
Gaming enthusiasts will appreciate the display's 240 Hz refresh rate and 3 ms response time, as well as its compatibility with VRR Adaptive-Sync and Nvidia G-Sync technologies for smoother gameplay. The display also supports Dolby Vision and DisplayHDR 1000, boasting a peak brightness of 1100 nits and near 1:1 contrast ratios with true blacks. The panel covers 100% of the DCI-P3 color space, and its color calibration is Pantone-validated for professional-grade color accuracy.
Advanced gaming features such as low-power mode for reduced refresh rate on battery power, GameVisual presets, and adjustable color temperature settings are accessible through the Armoury Crate software. The display also has TÜV Rheinland certification for low blue light emission, helping protect users' eyes during extended use. The 178-degree viewing angles ensure excellent visuals from virtually any position.
The audio system on the Asus ROG Strix Scar 16 2023 consists of four integrated speakers with Smart Amp technology, arranged in pairs of tweeters and woofers. Two speakers are located at the base, and two are rear-facing, providing an impressive audio experience with clear, balanced sound and a decent bass presence. The laptop supports virtual surround sound equivalent to 5.1.2 channels, enhancing the audio experience in games, videos, and music.
Keyboard, touchpad, and webcam
The 2023 Asus ROG Strix Scar 16 boasts an eSports-grade keyboard, maintaining the same design and layout as the previous generation with a TKL format, additional key column on the right, top quick access row, and full-sized arrow keys. The keys employ ROG Overstroke technology to register keystrokes early in the travel for enhanced speed, featuring 2mm key travel and excellent firmness in the keyboard's center.
The keyboard is comfortable for both typing and gaming due to its clear and distinct island-style 16x16mm keys. The AURA Sync Per-Key backlighting plays a crucial role in low-light environments, with AURA Creator allowing users to customize each key's color. The keyboard's membrane and switches guarantee a lifespan of over 20 million keystrokes, with N-Key Rollover support.
Asus has increased the touchpad size by 10%, resulting in a 130mm width and 85mm depth with integrated low actuation force buttons and a perfectly installed trackpad. Additionally, it features a NumberPad variant, similar to those found in Zenbook and Vivobook models, adapted to the ROG design. The touchpad is both comfortable and precise in use.
The included webcam is a typical 720p HD sensor with 30 FPS recording, but it delivers slightly better image quality than the average webcam, performing well in video calls. The laptop also features a noise-canceling microphone array powered by AI, accessible through Armoury Crate software.
Control software
Armoury Crate software offers performance settings and features for the Asus ROG Strix Scar 16 2023, with a higher level of detail than its competitors and continuous improvements. Users should keep the software up to date to ensure compatibility with the latest features and Asus drivers.
The software's main dashboard allows users to choose between various performance modes, including a manual mode for CPU and GPU boost control. Other important controls, such as the Nvidia MUX switch for iGPU and dGPU, overdrive, display power saving, and fast chassis lighting management, are accessible from the right-side panel.
Hardware features
Inside the Asus ROG Strix Scar 16 2023, the Intel Core i9-12980HX processor powers the laptop, featuring 16 E-cores, 8 P-cores, 24 total cores, and 32 threads. The CPU boasts a 5.6 GHz P-core boost frequency and a 4.0 GHz E-core boost frequency, with 36 MB of L3 cache. It is configured with a 55W base power (PBP), 140W PL1, and 175W PL2 if temperatures permit.
Paired with the processor is the powerful Nvidia RTX 4090 Laptop GPU, configured with a maximum 175W TDP, allowing for a 2040 MHz boost frequency and a controlled OC of 2190 MHz. The GPU features 9728 CUDA cores, 304 4th Gen Tensor cores, and 76 3rd Gen RT cores based on the 4nm Ada Lovelace architecture. It has 16 GB of GDDR6 VRAM at 2250 MHz (18 Gbps effective) on a 256-bit bus with a 576 GB/s bandwidth.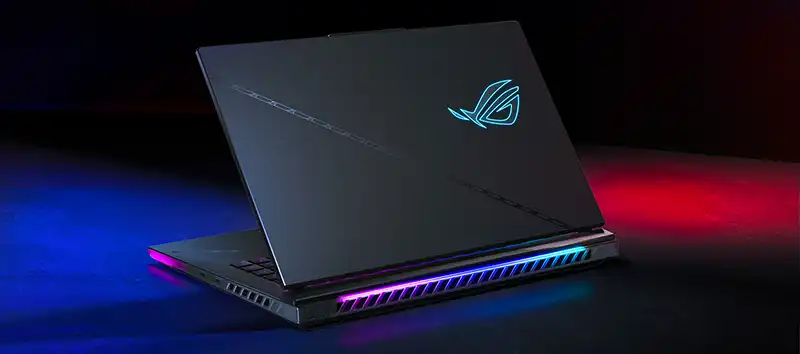 The laptop's RAM configuration consists of 32 GB DDR5 at 4800 MHz in dual-channel mode, with two SO-DIMM slots supporting up to 64 GB. Two PCIe Gen4x4 slots house Samsung PM9A1 1 TB SSDs in RAID 0 configuration, providing nearly 12 GB/s read speeds.
Battery life and performance
The Asus ROG Strix Scar 16 2023's battery is a 4-cell lithium-polymer unit with a total capacity of 5800mAh and 90Wh. Although not the largest in its class, the battery can provide an estimated 6 hours of usage in the most favorable scenario, with power-saving mode enabled and dGPU disabled. This estimate is based on editing an article with background music streaming from the internet. The battery may fall short when the CPU is pushed harder with more demanding applications.
Final thoughts on the Asus ROG Strix Scar 16 2023
Asus delivers one of the most powerful laptops tested, placing the ROG Strix Scar 16 2023 alongside MSI's GT77, with Asus' offering slightly outperforming it in some games. This performance is attributed to the impeccable optimization of hardware, cooling, and the operating system, as well as the use of liquid metal thermal compound.
In terms of peripherals, the laptop maintains a premium standard with a highly functional keyboard suitable for both gaming and work. The touchpad has been expanded and now features the NumberPad, a webcam, ANC-equipped microphones, and enjoyable audio quality for gaming and multimedia.
The Mini LED display deserves special mention for its image quality, performance, and Pantone calibration, rivaling the best and most expensive desktop monitors on the market. While the gaming-focused design might be too bold for some users, the aggressive styling aligns with the laptop's high-performance capabilities. Additionally, the laptop is easily accessible for hardware upgrades, and the 330W power adapter is slightly more compact than MSI's offering.
---
More stories like this
---